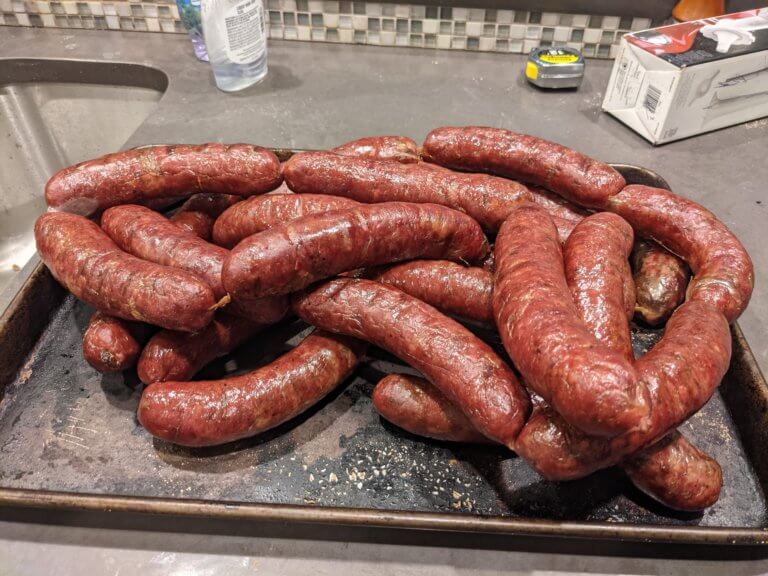 Smoked Venison Sausage
Ingredients
10

lb

venison

5

lb

pork belly

10

tbsp

kosher salt

3

tbsp

ground marjoram

2.5

tbsp

black pepper

2.5

tbsp

garlic powder

2

tbsp

ground sage

Natural hog casings
Instructions
Grind
Defrost pork belly in fridge for a few days. Place in freezer for 1hr before cutting so the outside is frozen but inside is still easy to cut through. Cut the pork belly into cubes.

Evenly distribute pork belly and venison on sheet pans (1 sheet pan for every 5lb venison / 2.5lb pork belly). Place in freezer for at least one hour before grinding.

Use the course grinder to grind the meat. It helps to only take out half the meat from the sheet pan, leaving the other half in the freezer to stay cold.

Each sheet pan of meat should fill one large bowl when ground. Move bowl to fridge and continue grinding all meat.
Stuff
Divide seasoning evenly. For each bowl of ground meat, add to roasting pan, add dry seasoning, mix it through evenly, then spread evenly on sheet pan and place in freezer.

Keep ground meat in freezer for at least one hour before stuffing.

Take out half of ground meat at a time. If the fat starts to get mushy, swap the current pan of ground meat with the one still in the freezer to it can stiffen up.

Put as many sausage casings on the wide stuffer as you can, then slowly stuff (#2 on kitchenaid). Leave the white stopper bit out as that clogs things up.

Place sausages in the fridge overnight to dry out the casing.
Smoke
Build a fire in the offset smoker. Run it hot at first to clean out the smoker, then keep it between 200-250 while the meat is on.

Add the sausages in long rows lengthwise down about 2/3 of the smoker (don't get too close to the fire box). Add two cookie sheets on top for a second row. Leave plenty of space around the sausages so smoke can touch all sides.

Smoke for about 3 hours. Target internal is 155.

It works really well to let the fire die on its own and let the sausages cool down naturally in the smoker. This lets the fat re-set inside them and not explode when you take them off.

Eat as many as you can right off the smoker. Move the rest to the fridge, and vacuum seal the next day.